Quagga utilizes InfoPlus® for Phone Migration.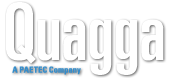 February 11, 2011
Quagga, one of the fastest-growing Avaya Platinum Partners in the Western Region, approached InfoPlus with an opportunity to assist them with a project to migrate a Heritage Nortel 81C platform to an Avaya Communication Manager. Time was of the essence, and Quagga quickly realized that their lack of Nortel knowledge could potentially prohibit them from completing the project on time.
InfoPlus had vast experience with both the Nortel and Avaya platforms, which proved to be invaluable in helping Quagga meet their objectives. InfoPlus was quickly able to identify how the Nortel system was built, how features and functions were being used and knew the exact path to translate in the Avaya language.
Read the full Quagga Case Study here.