InfoPlus® Traffic Study Critical for Major Defense Contractor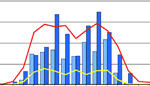 August 2, 2011
When the information used for the design of a major voice and data network could also be a matter of national security, it's good to have the integrity and accuracy of InfoPlus information on your side. That's exactly what the consulting arm of a major defense contractor decided when it was charged with the task of designing a network for a large government agency with mission-critical communication needs.
The challenge was to migrate the agency's 900 independent communication systems voice usage to VoIP over a new MPLS netwrok. The re-designed system would include two major core Avaya platforms, to which all other locations would be connected. Both data and voice would be carried through this network.
In order to provide accurate total bandwidth to be migrated onto the MPLS network, InfoPlus first had to identify several types of voice usage used within each system. These types of usages included independent voice mail and conference bridge traffic, as well as local and long distance traffic. In addition, the long distance traffic needed a further breakout into 'site-to-site' calls and other long distance calls. Once identified, InfoPlus was able to utilize it's Traffic Study with IP Analysis to engineer the usage types.
The consulting firm was able to utilize this information with complete confidence, assured that their recommendation for a system re-design would be based on accurate data. Just as critical was the ability of the government agency to completely self-fund the necessary purchase of network components and communication systems for the VoIP migration through efficiencies identified in the network design, as well as realize lower ongoing costs over time.