InfoPlus® to Attend IAUG CONVERGE2014 in Dallas, TX
April 9, 2014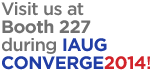 InfoPlus is excited to announce it will participate in the IAUG CONVERGE2014 event at the Gaylord Texan Resort and Convention Center in Dallas, TX, April 27 - May 1. Visit with us at the Solutions Expo (Booth 227) to learn how InfoPlus services and analytics can give you the business intelligence you need to:
Document and analyze your Avaya communication resources
Improve service and manage support liability with targeted information
Reduce costs
Assess security risk
Measure system performance and manage SIP migrations
Extract more value from legacy communication assets
When it comes to managing Avaya's Session Manager, we just wrote the book.
During the exhibition, we will be highlighting a new InfoPlus offering - the InfoPlus Session Manager Book. The InfoPlus Session Manager Book is the industry's first and only documentation and analysis of Avaya Session Manager.
This new and unique reporting service - combined with InfoPlus proprietary analytics - paints a detailed and well-diagrammed picture of Avaya Session Manager that can help you understand and optimize SIP routing policies across your entire enterprise. Domains, Locations, SIP Entities, Adaptations, Time Ranges, and Routing Policies are all captured, analyzed, and presented in a clear, user-friendly format. Targeted InfoPlus Action Items highlight programming errors and costly inconsistencies that may otherwise go undetected during design and implementation. The result is strategically valuable and actionable information that gives you unprecedented visibility into the heart of your Avaya SIP core network.
About InfoPlus
For over two decades, the InfoPlus portfolio of information services has enabled Avaya enterprise users to manage costs, improve service, fund innovation with cost savings from improved system efficiencies and make smarter, faster decisions about their communications infrastructure. InfoPlus currently services approximately 20% of the North American marketplace and is proud to count the largest communications vendors among its customers. The company has 'touched' over 40,000 communication servers worldwide, and over 25% of the Fortune 500 companies benefit from InfoPlus services.