InfoPlus® Session Manager Book receives Avaya DevConnect Compliance
November 1, 2013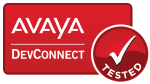 InfoPlus is proud to announce that our latest product offering, the InfoPlus Session Manager Book, has successfully completed the Avaya DevConnect Compliance Testing process. This milestone indicates that Avaya recognizes the Session Manager Book is fully compatible with the Avaya Aura Session Manager R6.3 release.
The new Session Manager Book now joins the rest of the InfoPlus offerings for Avaya Aura that have been compliance tested through DevConnect, and all of the certification letters can be reviewed through our downloads section.
The new Session Manager Book is the industry's first and only documentation and analysis of Avaya's Session Manager, providing actionable information that will verify a system's configuration, increase understanding, identify inconsistencies and errors, and otherwise help ensure that your corporate routing policies are accurately reflected in the Session Manager programming.
Learn More
Download a demo Session Manager Book
Download the Session Manager Book brochure